Iron Man 3 Hits Blu-Ray & DVD On September 24th; Digital Download On Sep. 3rd
Iron Man 3 has had an incredible theatrical run since it's release back in April internationally and May domestically; grossing $1.2 billion worldwide, making it the 5th highest grossing film of all-time. Disney Home Entertainment have now announced the home video release of the Shane Black-directed blockbuster. The film will arrive on psychical formats like Blu-ray and DVD on September 24th but you can watch the film on Digital Download on September 3rd. Along with cover art for the 2D (one of two) and 3D combo packs, a list of the special features have been released.
Deconstructing The Scene: Attack On Air Force One: Jump into action with the stunt-team
skydivers in this close-up look at creating one of the movie's most memorable scenes.
Exclusive Behind-The-Scenes Look – Marvel's "Thor: The Dark World": Experience the spectacular new worlds, unforgettable characters, and pulse-pounding thrills of the upcoming blockbuster movie.
Marvel's "Iron Man 3" Unmasked: Join cast and crew for a crash course in epic movie-making, Marvel style.
Gag Reel
Deleted & Extended Scenes
Audio Commentary with Drew Pearce & Shane Black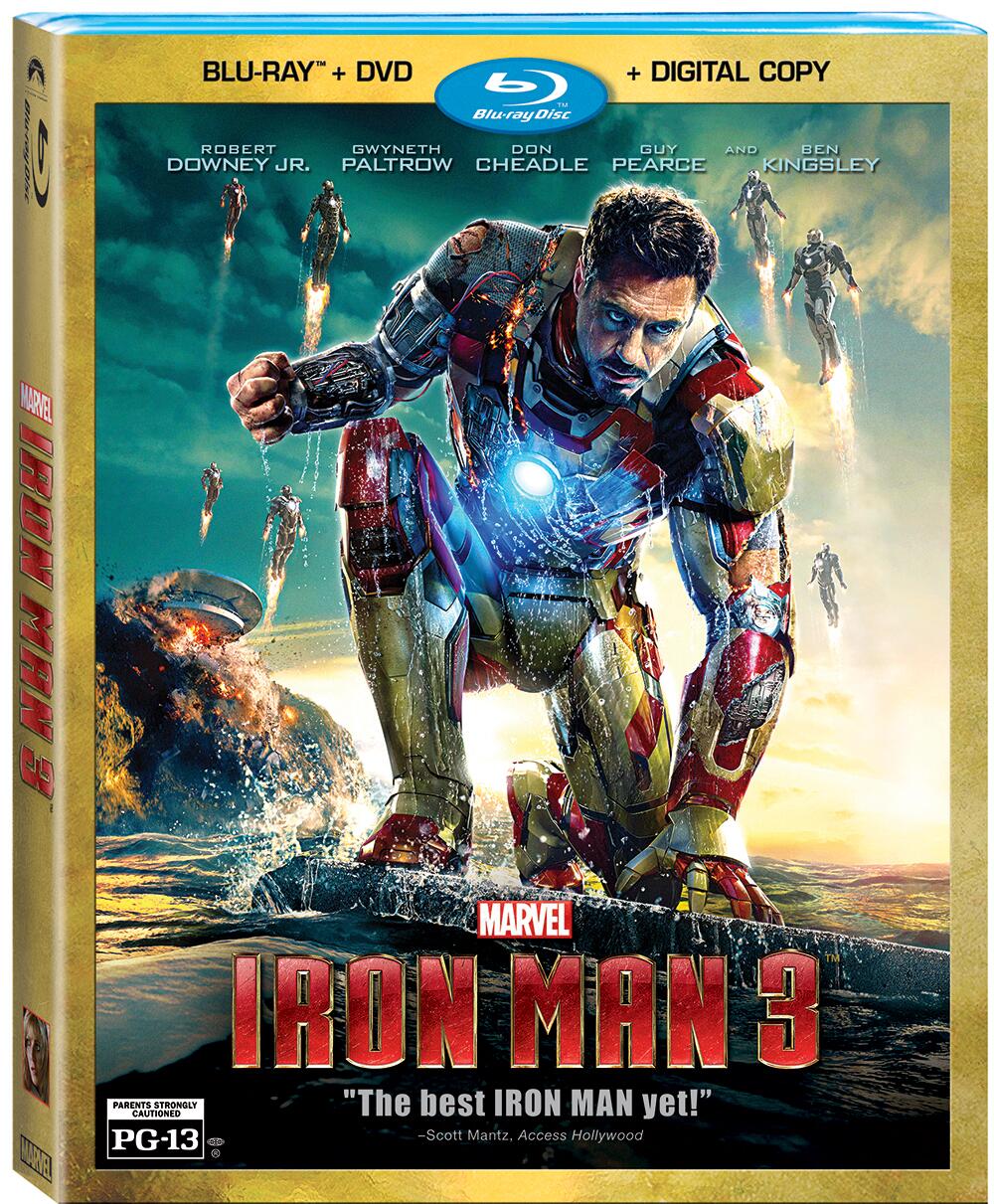 ---
Marvel Studios' "Iron Man 3" pits brash-but-brilliant industrialist Tony Stark/Iron Man against an enemy whose reach knows no bounds. When Stark finds his personal world destroyed at his enemy's hands, he embarks on a harrowing quest to find those responsible. This journey, at every turn, will test his mettle. With his back against the wall, Stark is left to survive by his own devices, relying on his ingenuity and instincts to protect those closest to him. As he fights his way back, Stark discovers the answer to the question that has secretly haunted him: does the man make the suit or does the suit make the man?
Starring Robert Downey Jr., Gwyneth Paltrow, Don Cheadle, Guy Pearce, Rebecca Hall, Stephanie Szostak, James Badge Dale with Jon Favreau and Ben Kingsley, "Iron Man 3" is directed by Shane Black from a screenplay by Drew Pearce & Shane Black and is based on Marvel's iconic Super Hero Iron Man, who first appeared on the pages of "Tales of Suspense" (#39) in 1963 and had his solo comic book debut with "The Invincible Iron Man" (#1) in May of 1968.
"Iron Man 3" is presented by Marvel Studios in association with Paramount Pictures & DMG Entertainment. Marvel Studios' President Kevin Feige is producing & Jon Favreau, Louis D'Esposito, Stephen Broussard, Victoria Alonso, Alan Fine, Charles Newirth, Stan Lee & Dan Mintz are executive producers. The film is distributed by Walt Disney Studios Motion Pictures.
---
---
All ComicBookTherapy contributors must agree and abide by our
Site User Agreement
. ComicBookTherapy.com is protected from liability under "OCILLA" (Online Copyright Infringement Liablity Limitation Act) and will actively enforce said provisions. If you represent an individual or company and feel as though this article has infringed on any of our terms or any existing copyrights, please
contact us
for a speedy removal.
---
---
Source : Walt Disney Studios Home Entertainment/Marvel Home Entertainment